We have some big news to share! We've partnered with Michele from Michele's Wig Reviews. She's transformed her own hair loss struggles into a passion and purpose by turning her experiences into content that so many women find helpful. Michele has signed on as a Moderator in our Private Facebook Group
Wigs.com Community – Wig and Topper Loves
. 
If you haven't joined our Private Group, it's a great place to share or review different styles, give feedback, gain inspiration, ask alternative hair related questions, and overall just have a safe space to discuss wearing hair. If you haven't already joined the group, please do so! We'd love to have you. 
We asked Michele some questions to help all of you get to know her better! 
Wigs.com: Tell us about yourself and how your journey with hair loss persuaded you to be such an inspiration in the hair loss community.
Michele: 
My name is Michele. I'm 53 years old (I don't feel 53!) and I'm married with two sons and three dogs. I'm living with androgenic and traction alopecia and have been wearing alternative hair since 2007. I wore human hair toppers for 10 years and now I mostly wear synthetic or heat friendly synthetic wigs.
I first started noticing my hair thinning around the time that I was a teenager when my part started widening. After the birth of my second child, I experienced postpartum hair loss. While this is typically a temporary condition, it really opened my eyes to the fact that I had unusually fine and thin hair. A couple of years later I decided to start wearing alternative hair.
The stylist at the first salon I went to tried to dissuade me from wearing alternative hair, saying that she did not think I should wear wigs (she was concerned about the stigma associated with wearing them). Because the hair loss I was experiencing was far worse in my opinion than any possible stigma associated with alternative hair, I then decided to visit a hair design studio (hair loss specialists). They recommended that I wear a topper. Initially they required me to agree to have it sewn into my bio hair. Although I immediately loved the topper, I hated having it sewn into my hair and having to sleep in it and shower with it. The next time I went to see them, I insisted on having clips added to the topper instead of sewing it to my hair. I then wore toppers with clips for 10 years. 
Unfortunately, because I normally wore my toppers in tight ponytails and the clips continually pulled on the same bio hair for prolonged periods of time, I developed traction alopecia. So, I decided to give wigs a try. I discovered YouTube videos about hair loss and wigs, and watched many hours of reviews and tutorials. By that point we had moved to a new city and I no longer wanted to travel back and forth to purchase my alternative hair from a salon. I was looking to cut out the middleman, so to speak, and have more control over my choices in alternative hair. That was when I discovered wigs.com!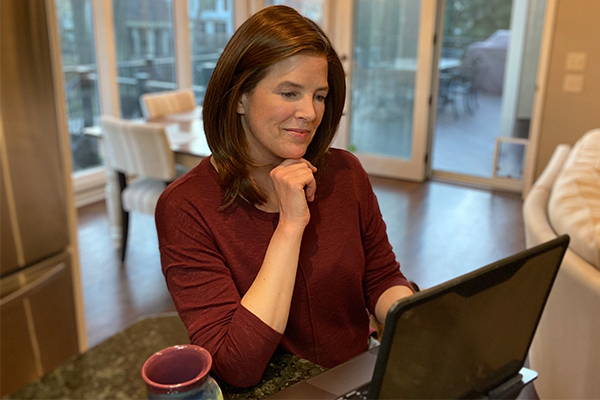 After many hours of research, I decided to purchase my very first wig, Savoir Faire by Raquel Welch. I remember the words Raquel (may she rest in peace) spoke in the HairUWear YouTube video from 2016 about the new Human Hair Couture Collection – "In a perfect world, every entrance would be grand, in a perfect world, chocolate would make you skinny, … and we'd all have the hair we dream of…". I ate it up with a spoon! Next, I decided to try synthetic wigs because the styles looked so beautiful and effortless and I have been hooked ever since.
Reviewers on YouTube were such a tremendous help and inspiration to me when I was looking for alternative hair options, that I want to pay it forward. I hope to help and encourage those with hair loss, play whatever role I can in breaking the taboo of wig wearing, and influence manufacturers to continue to provide us with high quality, affordable, beautiful alternative hair options!
Wigs.com: How has wearing wigs influenced your confidence or other areas of your life?
Michele:Before I started wearing alternative hair, I often worried that people were looking at the top of my head and making assumptions about why I had hair loss. Very often people assume you have cancer. I felt extremely self-conscious, spent an inordinate amount of time every day trying to hide my hair loss, and deleted many photos of myself. Wearing wigs allows me to either blend in with the crowd, if that's what I choose, or stand out from the crowd with the most dream-worthy hair, if I so choose. In a word, it's freedom. I now look forward to photo ops!
Wigs.com: What is the hardest part of wearing wigs?
Michele: Swimming, boating, water sports, or snorkeling in a wig are difficult. We went on a family vacation a few years back that involved some snorkeling. I did a lot of research to figure out a way that I would feel comfortable participating in these activities. I ended up wearing a sporty looking and comfortable nylon/spandex swim cap and it worked well. However, when we were back on dry land or in the boat and everyone was removing their gear, I had to decide whether to keep my wet swim cap on or quickly change into a baseball cap in front of everyone (one time I kept it on, the next time I changed). My point being, this is something that "bio hair typical" people don't give a second thought to, but I felt it required a lot of planning and some moxie for me to pull off.
Wigs.com: What is the best part of wearing wigs?
Michele: Being able to choose how I want to present myself to the world.
Wigs.com: If you could go back in time, knowing all that you know now, what would you tell yourself at the beginning of your hair loss journey?
Michele: You have so many beautiful and natural looking options. Be brave and forge ahead – learn everything you can about wearing alternative hair. Don't suffer for years trying to style and disguise your thinning hair. Wigs and toppers are much more mainstream now than you think. They can make your life so much easier, save you time, and be a lot of fun. Most importantly, you are beautiful with or without alternative hair!
Wigs.com: What are your top 5 fav styles carried by wigs.com?
Michele: Oh wow, it's really hard to pick only 5, there are so many that I love! For myself, I prefer lower density, low perma-tease, mid-length synthetic or heat friendly synthetic styles. In no particular order, I love:
Shop Michele's Favorites!
Hear and learn about products and sales before they go live. And get can't-miss info before everyone else. 

//