Florence Pugh is a household name because of her impressive acting career, but she is a woman of many talents. Pugh also has a passion for music. Her new movie A Good Person features songs she wrote and performed with her own voice.
Seeing Pugh belt out her own lyrics may surprise some viewers, but her interest in the medium goes back to her very first steps into the entertainment industry. 
Florence Pugh enjoyed exploring her musical side for 'A Good Person'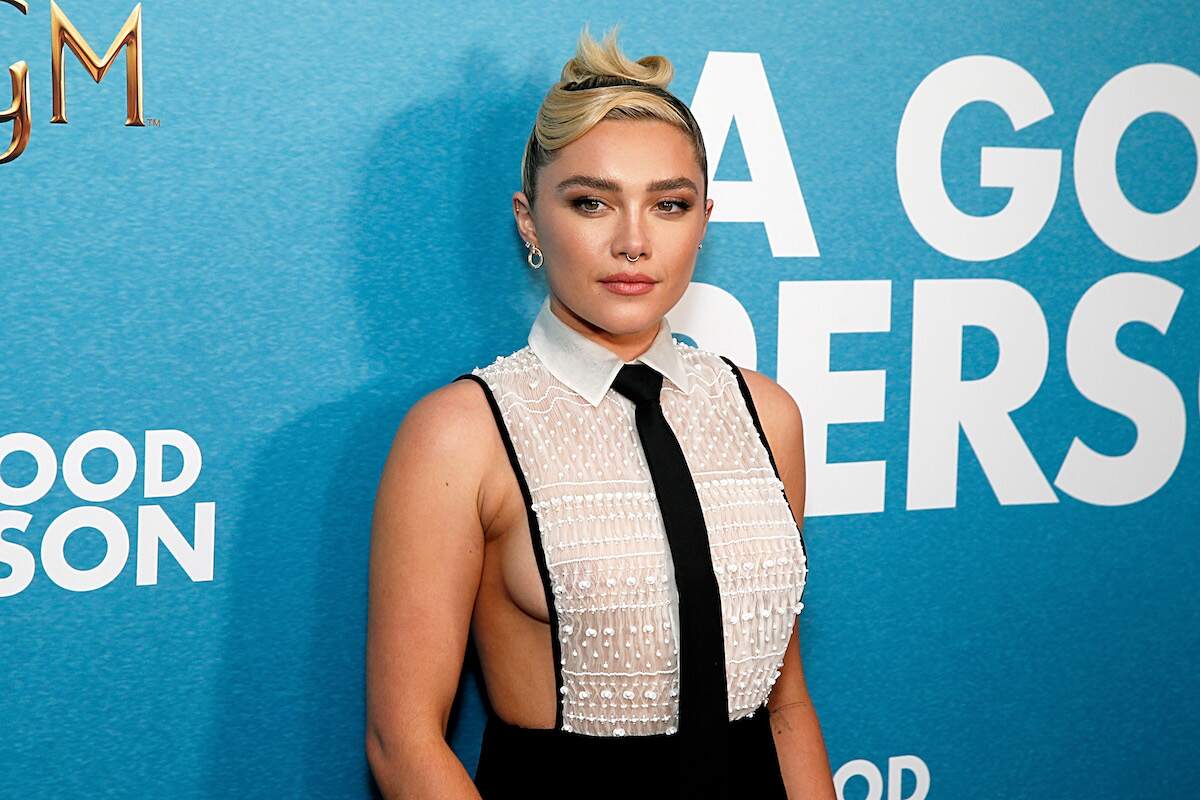 In A Good Person, Pugh plays Allison, a misfit 20-something stuck in a self-loathing spiral after surviving a fatal car crash in which she was behind the wheel, using opioids and alcohol to numb herself. Beneath the trauma of the accident is a bright, creative person capable of captivating a crowd at her engagement party with a cover of The Velvet Underground's "After Hours". 
Much of the attention A Good Person has received has revolved around Pugh's relationship with the movie's writer and director Zach Braff. But the film represents a further expansion of what Pugh can do on screen. She wrote and performed two songs in A Good Person, the slow ballad "The Best Part" and a punishing piano track titled "I Hate Myself". 
Pugh talked about the process behind her songs during an appearance on The Tonight Show Starring Jimmy Fallon. Even though she'd never sung in a professional capacity before this movie, she was not especially nervous since this was always part of who she was. 
"For years, I was always more of a singer-songwriter. It was happening more when I was younger, singer-songwriting then it was acting," Pugh said. "And then when I did my first gig as an actor, it just took off in that way. And so I hadn't done it in a long while. So yeah, there's a bit of confidence building, but I'm really excited to do it. I've been wanting to do it for ages."
She posted several videos of herself singing on YouTube before becoming famous
Before Pugh made her cinematic breakthrough in Lady Macbeth, she was just another aspirational person on YouTube singing and playing guitar into a webcam. Between 2013 and 2016, the actor published videos on her personal account under the name Flossie Rose. 
The videos are a time capsule of early 2010s indie folk, Pugh's original work, and enduring British classics. (Fun fact: Buying a guitar in England legally requires one to cover "Wonderwall" by Oasis under threat of severe prosecution.) Her mother, Deborah, posted an even older video on her own channel of an 11-year-old Flo learning to play Ricky Nelson's "Lonesome Town" in 2007. 
Pugh's singing voice is better than most. But it's still impressive that she is willing to leave these videos up as she ascends to mainstream movie stardom. Most people, let alone a professional actor, would not want the world to know that they once sang that Lumineers song with maximum sincerity. 
Pugh's brother has more experience in the music industry 
Florence isn't the only Pugh family member with an interest in music. Her brother is a singer-songwriter known professionally as Toby Sebastian. He released his first album Into the Light in 2013 and put out several singles in the following years. For his latest song "Midnight", Sebastian brought Florence in for a guest feature. Per DIY Magazine, the collaboration was a result of their mother's intervention.
"We've always grown up collaborating as a family, which is kind of the beauty of this song and now the video that we've created," Toby said. "When I was writing the song, I was literally walking out the door to go and do the final edit, and my mum was like, 'Floss why don't you sing some backing vocals?', so we jumped in the car and with no rehearsal and about 20 minutes of studio time, Florence added her magic to the track.
Its music video is also a family affair. The visuals were shot at Kazbar, a restaurant owned by the Pughs. Sebastian has also acted on occasion, most famous in Game of Thrones as Trystane Martell.