For seven years, Elvis Presley performed multiple residencies in Las Vegas. The king of rock and roll thrilled concertgoers at the International Hotel twice yearly. Presley performed twice a night in a run of 636 shows. However, the fun didn't always stop after the curtain fell. The entertainer once admitted jam sessions sometimes ran "until daylight."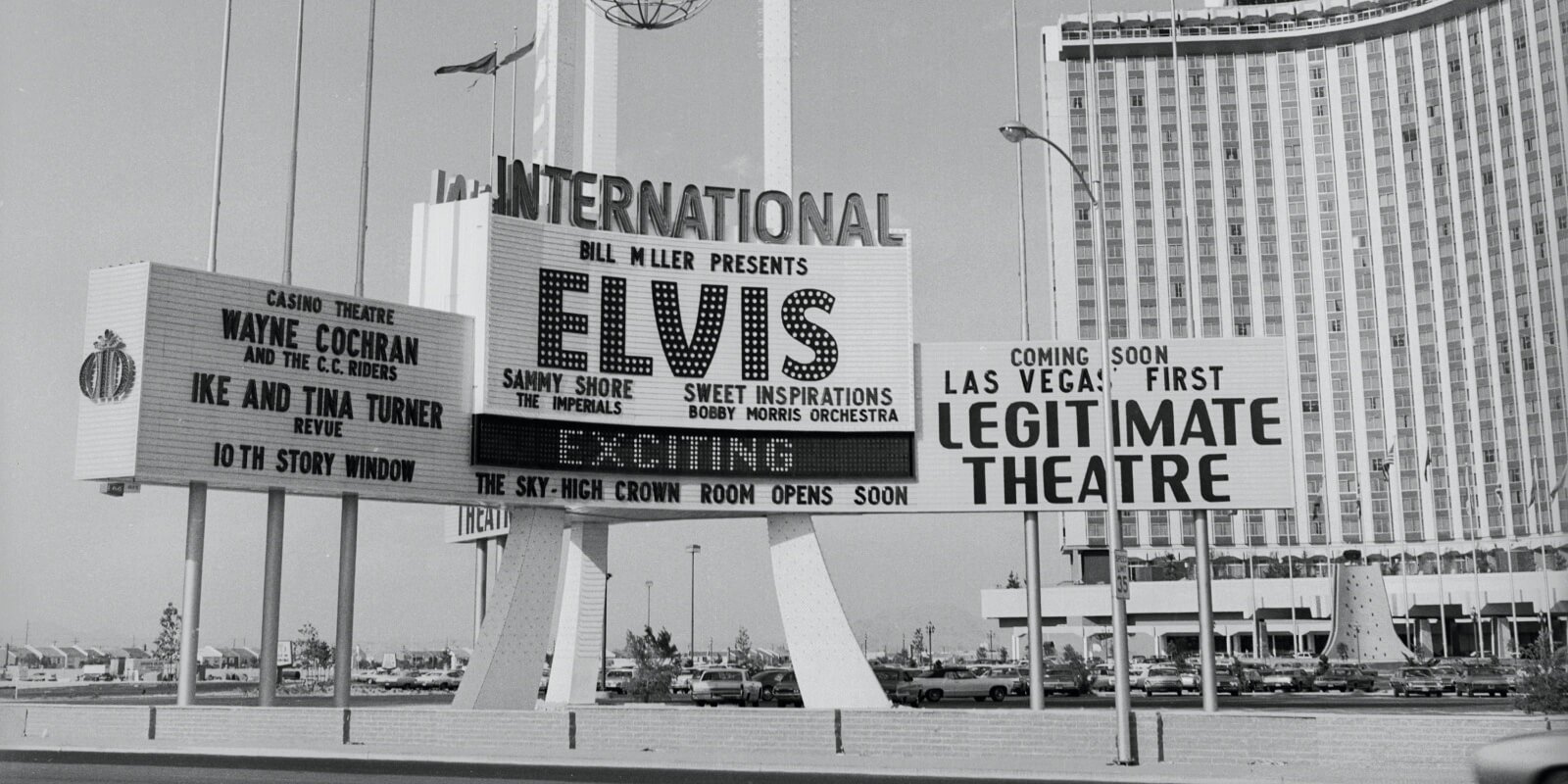 In 1972, Elvis Presley discussed his Las Vegas performances while filming "Elvis On Tour." He gave two separate interviews with the directors of the movie, Pierre Adidge, and Robert Abel, during his Madison Square Garden shows in New York City.
In the footage, an unknown person reveals that after Presley completes two shows per evening, he and his band sometimes continue to perform into the wee hours of the morning. Presley said, "We will do two shows sometimes. They we'll go upstairs and sing until daylight."
What was Presley's choice of music during those late-night singalongs? "Gospel songs," he revealed.
However, he also shared that those all-nighters didn't always happen. When asked how often these singalongs happened, Presley responded, "Not too often when you're working every night."
Elvis Presley revealed these impromptu jam sessions 'put your mind at ease'
During the era of some of his most prolific looks and recordings, Presley had a surprising response to a question posed by the Elvis on Tour interviewer of the jam sessions. Asked, "What does it do for you," Presley admits, "It puts your mind at ease."
"Everybody has been really concentrating," Presley said of putting on shows for patrons. In contrast, the impromptu gatherings were "things we know."
He continued, "It takes you down to another level. When you get [offstage], nobody can sleep for hours. It takes 4 to 5 hours to even begin to unwind. We usually wind up doing this type of stuff [gospel music]."
A young Martin Scorcese worked on the documentary, 'Elvis on Tour'
Elvis performed thousands of shows throughout his years in the entertainment industry. One constant remained.
"I get to please the crowd, excite them, and make them happy," Elvis said of his extensive touring schedule in a clip from the trailer.
A young up-and-coming filmmaker, Martin Scorsese, assisted in the film's montage sequences. That same year, Scorsese was invited to direct his first major film, Boxcar Bertha. Just one year later, he helmed Mean Streets, followed by Alice Doesn't Live Here Anymore, and his legendary directing career took off.
Per Goldmine Magazine, Martin Scorsese's work on the film almost didn't make it to its final edits. These cuts were at the hand of Colonel Tom Parker, Presley's longtime manager, who stated that Presley didn't like old pictures of himself.
However, longtime Presley associate Schilling claimed that the king of rock and roll objected to the use of old photos on new albums. Therefore, after Schilling explained to Presley what the sequence was like and how it would help push the film forward, he agreed the montage could remain.
Elvis Presley played shows in Las Vegas for seven years. His final Sin City appearance was on December 12, 1976. Just eight months later, Presley died at his Graceland home.