Charlie Watts successfully drummed with The Rolling Stones for decades. He has received praise for his steady timekeeping and anchoring force in the band's music. This doesn't mean that he never faced challenges while recording, though. On one of The Rolling Stones' most well-known songs, Watts struggled to get it right. He ended up walking out of the recording session, causing a producer to step in and play the part.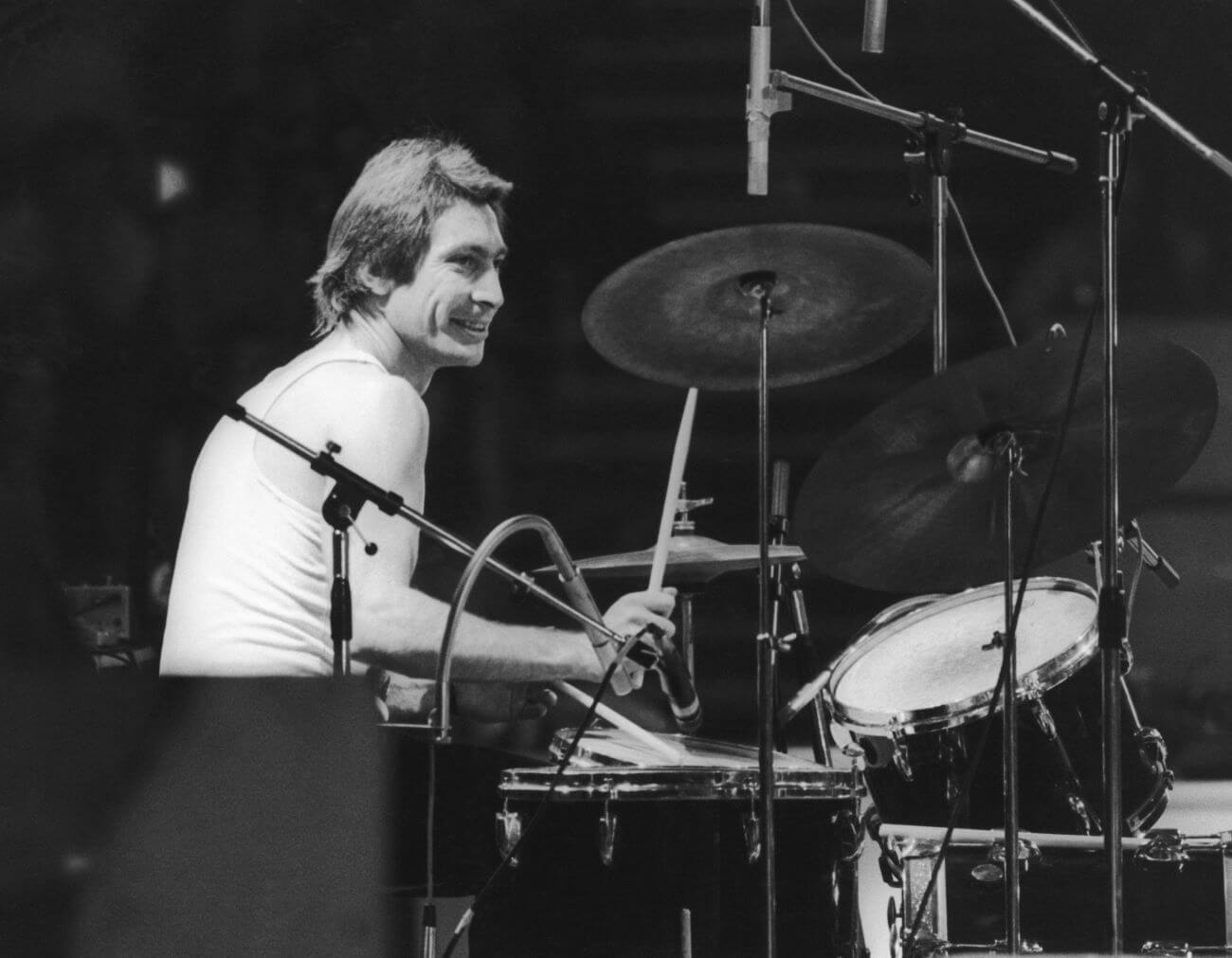 Charlie Watts walked out during a recording session with The Rolling Stones
In 1969, The Rolling Stones released "You Can't Always Get What You Want." It is among their better-known songs, but listeners aren't hearing Watts on the drums. Instead, it's a producer, Jimmy Miller.
"'You Can't Always Get What You Want' was something I just played on the acoustic guitar — one of those bedroom songs," Mick Jagger said, per the book According to the Rolling Stones. "It proved to be quite difficult to record because Charlie couldn't play the groove and so Jimmy Miller had to play the drums."
Al Kooper, who played French horn and keyboards in the studio with the Stones, recalled the tense interaction.
"Well, the producer, who was Jimmy Miller, was trying to show Charlie Watts how to play something," Kooper told NPR. "And first, he explained it to Charlie, but Charlie couldn't play it. So Jimmy said, 'Can I sit at the drums and I'll play it for you and then you'll be able to do it?' So he sat down and he played it, and Charlie said, 'Why don't you just play it?' and walked away. And I said, 'Oh, that's not good.' So Charlie Watts didn't play on that track."
Watts reportedly remained out of the studio until they finished recording the song, but he viewed Miller's drumming positively.
"Jimmy Miller played drums on a couple tracks on Let It Bleed, including 'You Can't Always Get What You Want,' which I subsequently copied," Watts said. "That's how good Jimmy was at hearing songs. He wasn't a great drummer, but he was great at playing songs on records, which is a completely different thing. 'You Can't Always Get What You Want' is a great drum track."
His struggle on 'You Can't Always Get What You Want' doesn't take away from The Rolling Stones drummer's talent
Watts may have struggled through the song, but that doesn't take away from his strength as a drummer, even if he didn't always believe in himself. According to his bandmate, Keith Richards, Watts was incredibly modest about his skill.
"There's nothing forced about Charlie, least of all his modesty," Richards told Rolling Stone in 1981. "It's totally real. He cannot understand what people see in his drumming."
Watts' steady drumming grounded The Rolling Stones' music. He breathed life into their songs, even with relatively reserved drum parts. He made powerful drumming sound effortless and made each of his bandmates sound better. Watts rightfully earned his place among the greatest drummers of all time.
Charlie Watts' bandmates in The Rolling Stones mourned his death 
In 2021, Watts died after nearly 60 years with The Rolling Stones. 
"It is with immense sadness that we announce the death of our beloved Charlie Watts," a spokesperson for the band said, per the LA Times. "He passed away peacefully in a London hospital earlier today surrounded by his family. Charlie was a cherished husband, father and grandfather and also as a member of the Rolling Stones one of the greatest drummers of his generation."
His bandmates have spoken about missing not just his drumming but his friendship.