If you're struggling with thinning hair or just want longer locks, you might want to incorporate hibiscus into your hair routine. Believe it or not, this Chinese herb, which also goes by the scientific name, Hibiscus rosa-sinensis, has shown some serious promise when it comes to hair health, especially in relation to hair growth. Read on to learn how to hibiscus benefits for your hair!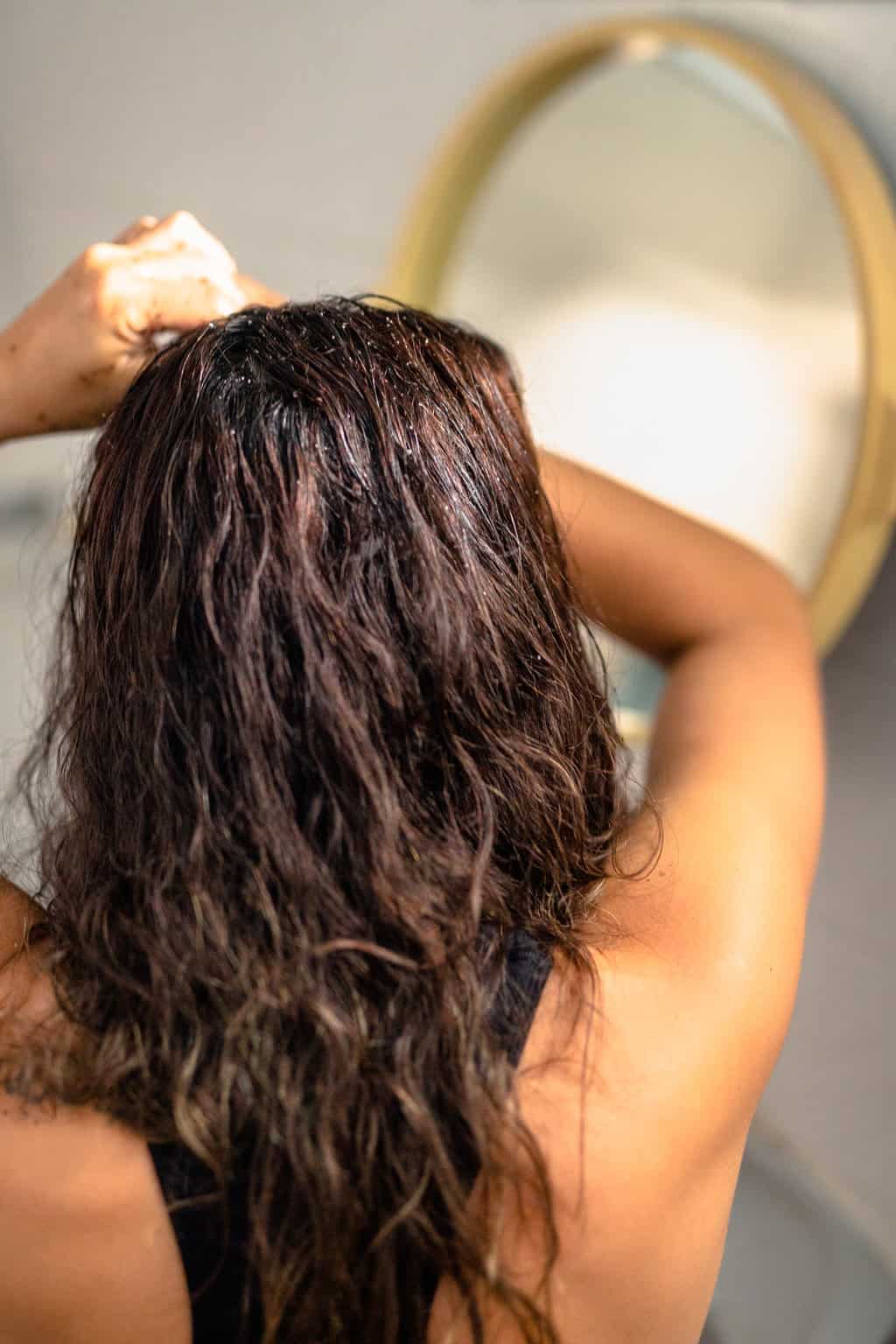 Meet the Experts

Lauren Paglionico, hair colorist and owner of LRN BEAUTY in New York City

John Kahen, M.D., Chief Hair Surgeon and founder of Beverly Hills Hair Restoration
Is Hibiscus Good for Hair?
Hibiscus is a flowering plant that is actually quite beautiful and may even be found in your neighbor's garden. Along with making a tasty tea, hibiscus has long had medicinal, cooking, and cosmetic uses, for which it is still showing promise today. Over the last few years alone, it has become increasingly popular in the haircare world as a hair treatment that thickens and helps enhance the health of hair. 
And if you're reading this article, you're probably looking for ways to grow or thicken your hair. Don't worry, you're in good company. Hairstylists are seeing a major increase in hair loss among their clients, and this is supported by actual research.
As if the stress of the pandemic wasn't enough to cause hair loss, the actual virus that plunged the world into the lockdown of the century surely was. In fact, one study published in The Lancet discovered that 22 percent of patients in the study who had been hospitalized as a result of a COVID-19 infection experienced hair loss as a side effect [source].
Hibiscus for Hair Benefits
Believe it or not, the hair benefits of this beautiful flower are pretty impressive—that is when its oil is extracted from the flower itself. Here is a closer look at some of the ways you can use hibiscus as a main ingredient for your hair care.  
It can help prevent hair loss
Hair loss is no fun for anyone—nor is footing the bill for all of the haircare products you are purchasing to help with hair growth. Hibiscus can help stimulate hair growth mainly by increasing keratin, notes Lauren Paglionico, hair colorist and owner of LRN BEAUTY in New York City.
"Keratin is the building block of hair and what our hair strands are actually made of," she says. "By increasing blood circulation in the scalp, it strengthens hair at the root, from the inside out." In other words, when our hair follicles are strong and healthy, our strands become thicker and stronger, resulting in less hair loss overall.
Another potential way that hibiscus can help prevent hair loss is that it is naturally rich in vitamin C, a nutrient that plays a supporting role in hair health. Hibiscus is also rich in other key nutrients for hair health, including amino acids and antioxidants, notes John Kahen, M.D., Chief Hair Surgeon and founder of Beverly Hills Hair Restoration. "These nutrients work together to improve the overall health of your hair. Hair can be left feeling stronger and split ends mended," he says. 
It can help treat dandruff
An estimated 50 percent of the world's population [source] deals with this embarrassing scalp condition that causes excess flakiness and overall irritation on the scalp, according to an article published in the International Journal of Trichology. If you have an oily, itchy scalp accompanied by dandruff, then hibiscus can help.
"Dandruff can clog the pores, causing the scalp to be out of balance," says Paglionico. "Hibiscus balances the scalp's pH by reducing oil secretion, keeping dandruff at bay." She also points out that hibiscus has a cooling effect when applied to the scalp that can bring relief and feel like pampering. 
It can condition the hair
Hibiscus can also be used as a conditioning treatment, according to Paglionico. "Because hibiscus is nourishing, it's ideal for dry or damaged hair," she says. "When used as a treatment, it locks the moisture in your hair, making your locks extra shiny."
It can be anti-aging 
Your skin is hardly the only thing on your body that shows signs of aging. In fact, your hair does as well. "As we age, we lose collagen. But hibiscus is filled with vitamin C, which promotes collagen production in our body," she says. "The collagen makes the scalp more supple and counteracts the aging process."
What Hair Types Should Use Hisbiscus?
The good news about hibiscus essential oil as a haircare ingredient is that it's ideal for pretty much anyone and any hair type. In particular, individuals looking to improve the health of their hair, as well as its thickness and vitality, would benefit most from using hibiscus oil.
If you are applying it directly to the scalp, Dr. Kahen recommends doing a patch test first to ensure you do not have an allergic reaction. "If you are someone whose hair grows too fast for their liking, you may want to steer clear of the treatment as it could propel that more," he says. "Also, while it can help with the rate of hair growth, if you're experiencing balding, hibiscus oil usually won't work wonders or create new hair growth where there hasn't been any." 
How to Use Hibiscus for Hair Growth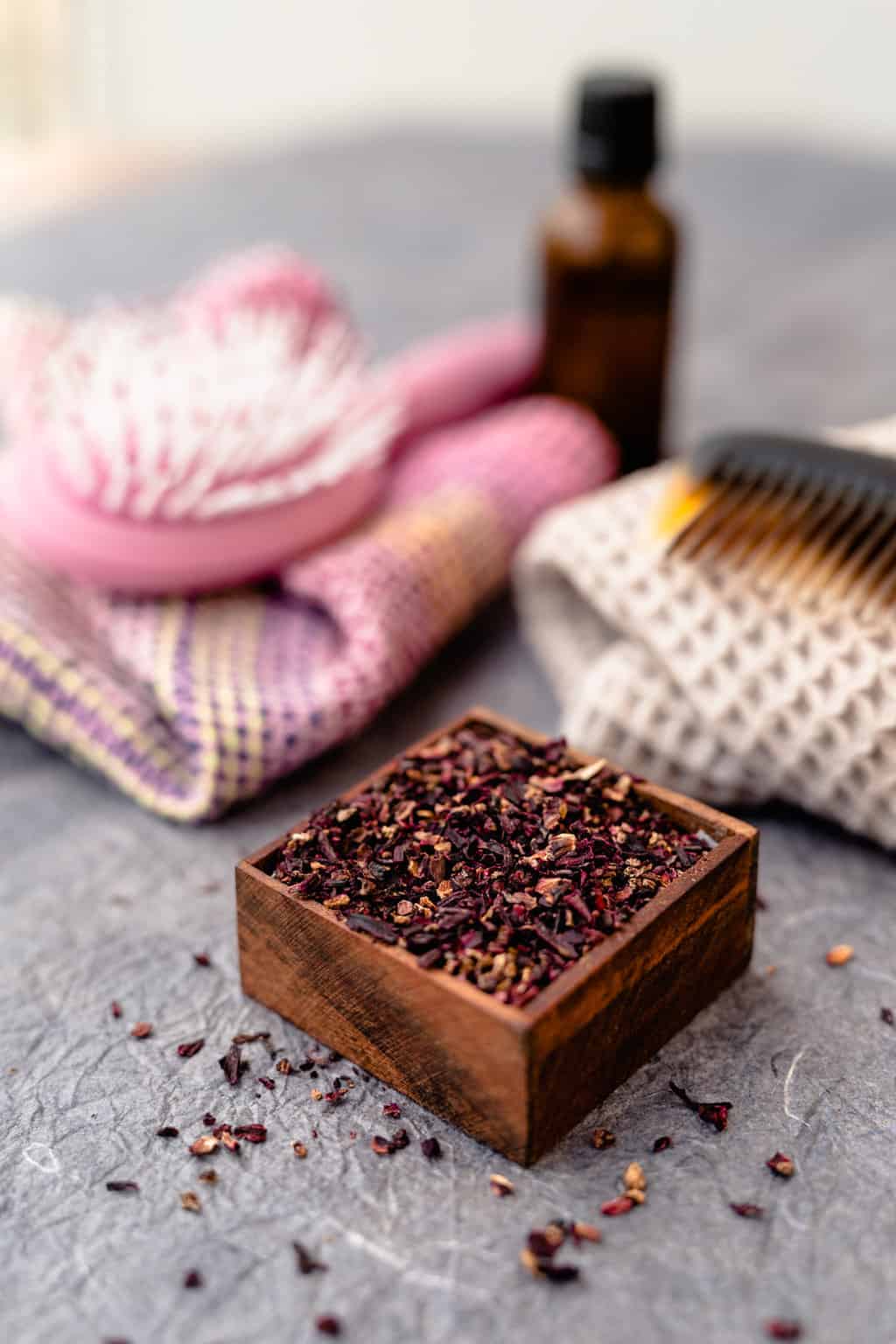 Add it to your shampoo
A convenient way that Dr. Kahen recommends using hibiscus essential oil in your haircare routine is by adding a couple of drops to your shampoo. "If hair growth is your number one concern, adding it to shampoo might not be the best way to achieve the best results. However, this method can still offer a great deal of moisturizing and restoring benefits," he says.
This technique can also help alleviate any dandruff you may be experiencing.  
Apply it as a leave-in treatment
There are a couple of different options that Dr. Kahen suggests. "You can add a couple of drops of hibiscus oil to a styling cream or leave-in conditioner you already own. Or, you can buy one of the formulated hibiscus oils on the market," he says. "There are many options out there that include other ingredients to benefit the health of your hair, as well."  
Apply it as a hair mask
You can also add hibiscus oil to your scalp. Dr. Kahen recommends letting it sit overnight and then rinsing it out in the morning. "You can also add some hibiscus oil to a hair mask for the added benefits and follow the directions provided for the hair mask used," he says. "Hair can be left even softer and healthier with this addition." 
At-Home Recipes for Using Hibiscus for Hair Oil

Ready to add hibiscus oil to your haircare routine? Here are some ways to do so, according to the experts.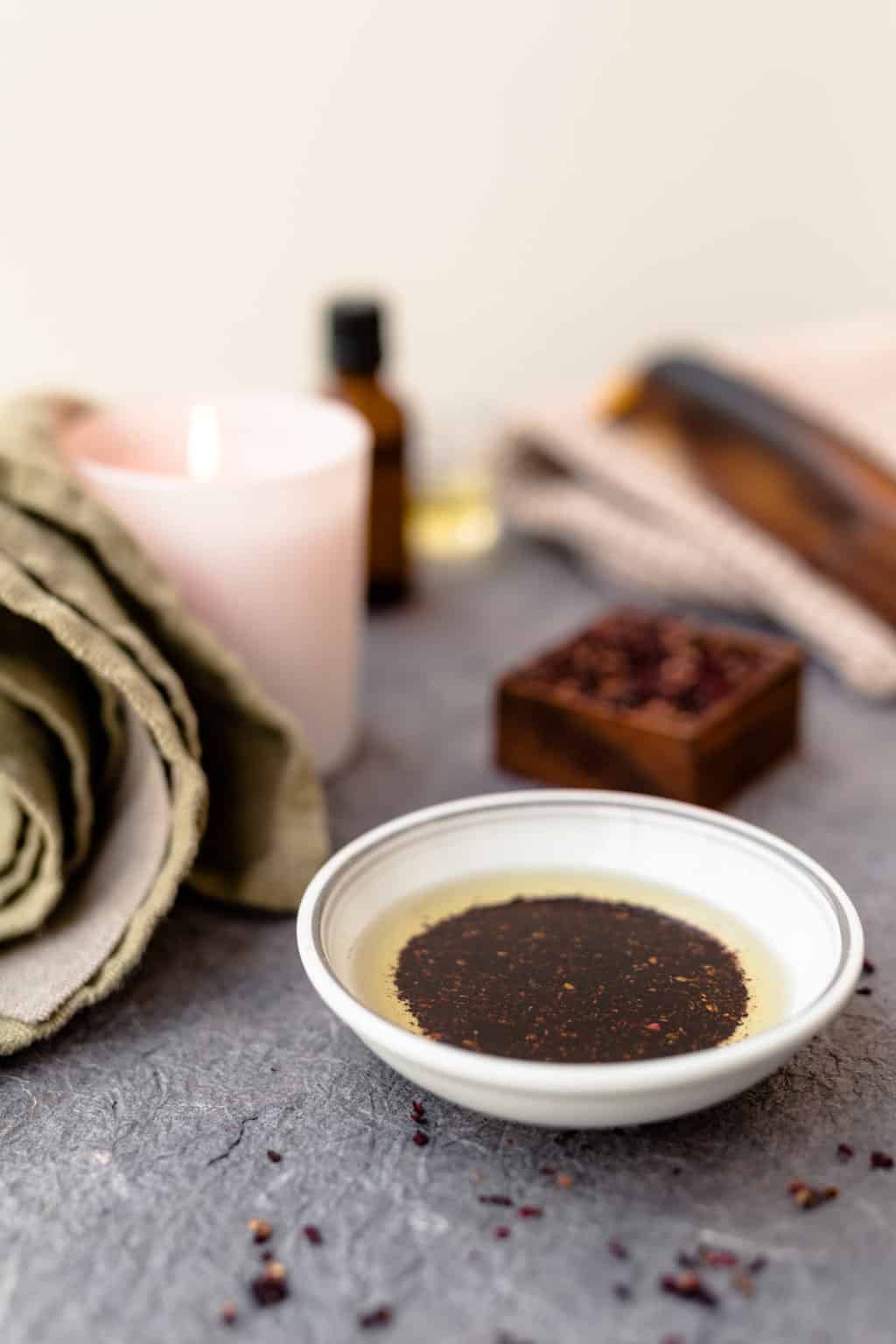 Mix it together with a carrier oil
Dr. Kahen recommends combining hibiscus essential oil with a carrier oil, like argan, jojoba, or coconut oil. "Apply it to the hair, starting from the scalp to the ends, and let it sit overnight," he says. "Rinse it out in the morning, and your hair should feel super hydrated and shiny."  
Combine it with rosemary oil
Rosemary is another natural herb that can help stimulate hair growth, so you can consider combining rosemary and hibiscus essential oils to reap the benefits of both at the same time. Dr. Kahen recommends applying the oil combination to damp hair directly after washing.  
Moisturizing hibiscus hair treatment 
Paglionico recommends first grinding hibiscus leaves and flowers into a paste, making sure first to remove the pollen from the flowers. Then, warm 1/2 cup of jojoba oil on the stove and pour the paste in. "I choose jojoba oil because it resembles our natural oils and also has many scalp and hair benefits such as hydration," she says. "Do not put it in the microwave, as it can get too hot in some spots," she says. 
Once the mixture has cooled down, she recommends massaging it into your scalp and finger combing the rest into your ends. Let it sit for 10 to 20 minutes before rinsing, shampooing, and conditioning your hair per your usual routine. 
References:
Huang C, et al. 6-month consequences of COVID-19 in patients discharged from hospital: a cohort study. The Lancet. 2021. 
Manuel F, et al. A new postulate on two stages of dandruff: a clinical perspective. Int J Trichology. 2011.